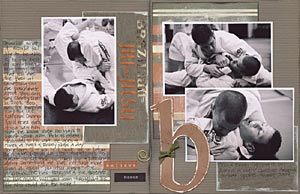 I love girly-girl layouts. Unfortunately, half of our population is made up of men who can sometimes be so dirty and rough around the edges. If you're like me, you may have a difficult time translating your favorite girlish embellishments and patterns into something that's fit for a boy.

Here are a few tips and tricks that will make a masculine layout easier and more fun to do:

Think Colorful - When you think of a masculine layout, usually dark colors will come to mind. While those are still a tried-and-true way to make a page more masculine, try breaking the mold by adding some light, fresh colors into the layout. You'll be surprised just how good it will look.

Go Geometric – Masculine layouts are a great time to use all that colorful striped, checked, and dotted patterned paper you've been collecting. Look for bold and strong patterns to convey that masculine appearance.

Distress It - Try inking, painting, sanding, and crumpling your embellishments for a grungier look. Walnut ink is a great way to add a little bit of dark color to a light paper or embellishment to rough it up a bit. You can make the ink as dark or as light as you want to for your desired effect.

Sandpaper is another easy way to help your paper reflect that rough-and-tumble look. Crumple your patterned paper and then uncrumple it and lay it out flat. Then sand the creases lightly. You'll be left with a distressed version of your patterned paper that will bring a rougher feel to the page.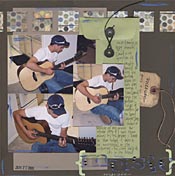 Not into the mess of sanding and inking? There are several product lines that do the distressing work for you. Rusty Pickle, 7 gypsies, K & Co, and Basic Grey are just a few.

Add Embellishments – A masculine layout doesn't mean that you have to go sans flowers and ribbon. They just need a little bit of tweaking and adjusting. For instance, tie ribbon accents in a knot rather than a bow and you'll accomplish that masculine look. Metal embellishments such as brads, staples, hooks, tags and letters can be layered with ribbon, silk flowers or even fabric to help all of the elements work together.

Remember to Journal - Just because you've got a man or a boy to scrap about, doesn't mean he doesn't have the same feelings and emotions that a girl does. Try to get these down on paper for your journaling. Try a question-and-answer style of writing to get the man in your life to participate in the journaling.

If you can think outside the box with the products you already have, you can make anything look masculine. Additional shopping is not really necessary. (You don't have to tell your husband that!)